Search our site:
Nighttime Adventures: Counting Sheep
Nighttime Adventures: Counting Sheep
by Michelle L. Rock (hey, that's me!) and illustrated by Nickolai Longmore. I really did write this book, and my brother did illustrate it too. To be honest this endeavor all began when we started looking for kid's books for our children, nieces, nephews, baby shower gifts etc, etc. We noticed not all children's books were all that entertaining or that well illustrated either. We put our heads together and did our "own thing," which turned out to be a couple of pretty dang good little books. (Also see
The Little Princess.
) Young kids love
Nighttime Adventures: Counting Sheep
. We have a friend with a two-year-old, who loves this book and chooses this as her bedtime story every night. (She also thinks the sheep say "meow" but fluffy white animals come in many shapes.) It is also a book that counts to 10 for those two to three year olds who are learning to count.
Nighttime Adventures: Counting Sheep
is about a little boy who is struggling to fall asleep. He tries counting sheep, however, his sheep evolve from jumping the fence to diving, building doors, and magically appearing on the other side. (Unfortunately, this is a true story for me.) Nick's illustrations are so much fun! One of my favorite pages is the final spread in the book. There are no words on these last two pages, just the ten sheep grazing and doing "their own thing." It is so fun to go through the book and search these pictures for the little details. For example, the little boy is flexing along with sheep number 8 as he struts to the wall to jump. Putting together this website has truly has been a "labor of love." It is an honor to share with you our love for reading, storytelling, and never forget the illustrations (a "picture's worth a thousand words"). Sneak Peeks: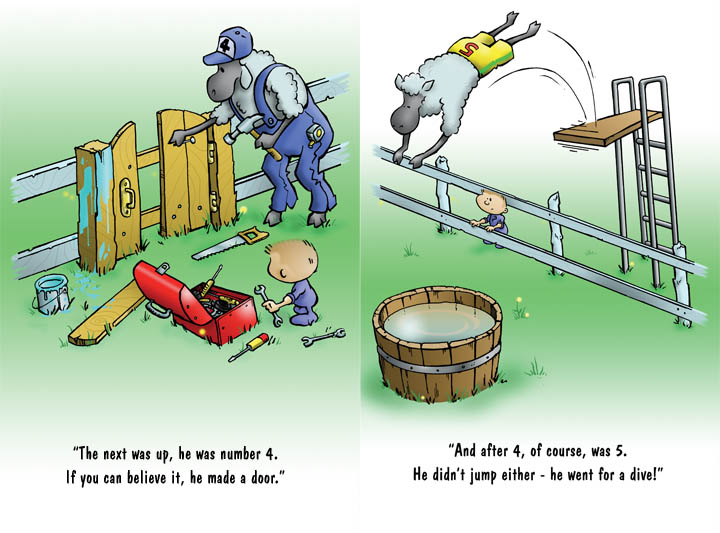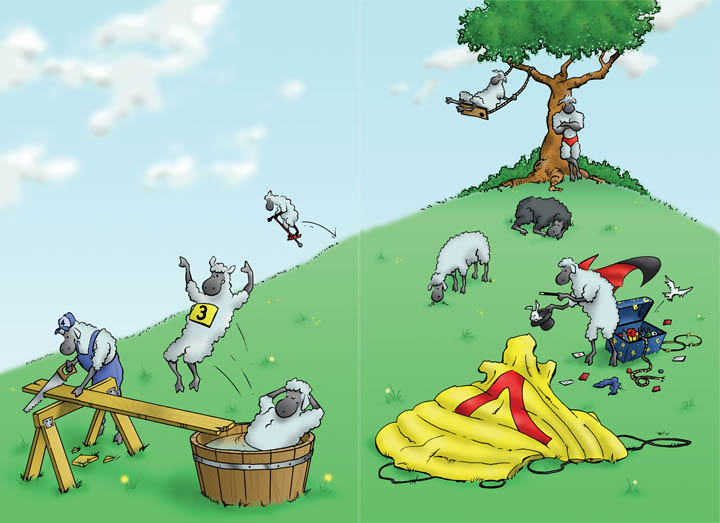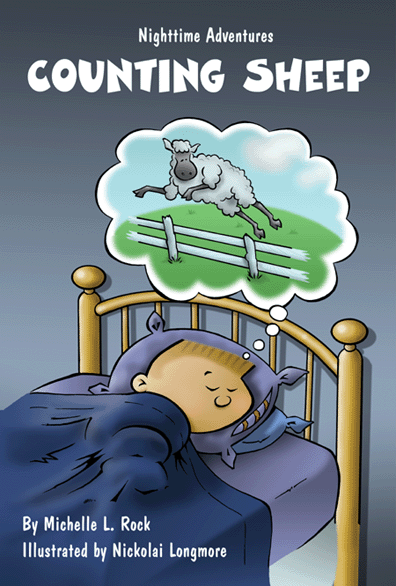 Our price $3.99 To supplement this book, we have free printable
finger puppets
for your children's
role-playing
enjoyment.
© 2004 - 2023 all rights reserved.
All text and images on this site may be copied for noncommercial or home use only and may not be altered in any way. Images may be included in noncommercial collections only and must provide a link to Reading-With-Kids.com.